Pat is a character in Gacha Life, located in Hometown A. He likes many types of food among other things.
His preferred gift category is Sports.
He was created by Senpaibuns.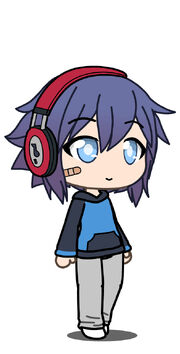 Profile
His relationship and personality is 'Unknown'. His occupation is 'Creator'.
Gacha Club Base Stats
Club: Club Duck
Hit Points: 228
Attack Power: 44
Defense Power: 10%
Damage Type: Wind
Active Skill: Power All Strike (15 MP) - Attack all enemies with (1.2x/1.6x/2x/2.4x/3x) dmg
Passive Skill: Team Crit DMG+ - Team Crit DMG+ (x0.1/x0.2/x0.3/x0.4/x0.5)
Appearance
Presets
Pat is a non-player character who can be found on page 1 of 'Presets'. In general, he is preset number 5.
Physical Design
Pat has short, navy-blue hair with a fade of purple, red, grey and dark grey earphones, blue eyes, caucasian skin, a band aid on the left side of his cheek, dark grey-blue and blue clothes, grey pants and white shoes.
Trivia
He enjoys football and history.
His favorite planet is Venus.
His best friend is Luni.
He never takes his headphones off.
His favorite fruits are Grapes.
Gallery