Lucas Lee is a water unit, who made his debut in Gacha Resort as a 6-Star Unit. He has also appeared in Gacha Life and in Gacha Club as a unit. He was created by Luni.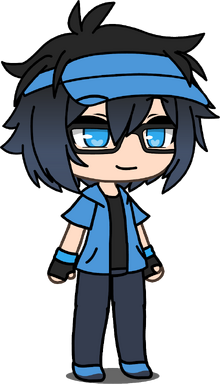 Magical Luni
The Magical Luni variant can be found in Gacha Life and is one of three characters that can only be accessed by the Level 100 Portals. This is Luni in Magical Boy form who hopes to defeat all evil monsters in the world. His powers include flight, summoning a magical duck that's big enough to ride on, and a special attack called "Kawaii Duckie Blast!" Senpaibuns is his Magical sister, though whether this is biological or honorary is unclear. His preferred gift category is Adorable.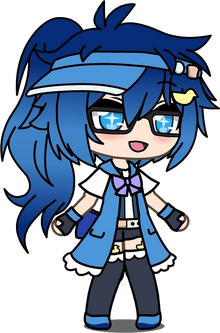 Gacha Club Base Stats
As Luni
Club: Club Duck
Hit Points: 240
Attack Power: 53
Defense Power: 10%
Damage Type: Water
Active Skill: Power Strike (10 MP) - Attack 1 enemy with (3x/4x/5x/6x/7x) dmg
Passive Skill: Team Crit DMG+ - Team Crit DMG+ (x0.1/x0.2/x0.3/x0.4/x0.5)
As Corrupted Luni
Club: Club Corruption
Hit Points: TBD
Attack Power: TBD
Defense Power: TBD
Damage Type: Corruption
Active Skill: Crit+ All Strike (20 MP) - Attack all enemies with (1x/1.2x/1.4x/1.7x/2x) dmg, increase team Crit Rate+ (1%/2%/3%/4%/5%) & Crit DMG+ (x0.1/x0.1/x0.1/x0.1/x0.2)
Passive Skill: Team Crit DMG+ - Team Crit DMG+ (x0.1/x0.2/x0.3/x0.4/x0.5)
As DJ Luni
Club: Club Gacha (Club Duck)
Hit Points: 250
Attack Power: 54
Defense Power: 14%
Damage Type: DJ
Active Skill: ATK- Strike (15 MP) - Attack 1 enemy with (2.5x/3x/3.5x/4x/5x) dmg, decrease enemy ATK- (1%/2%/3%/4%/5%)
Passive Skill: Team Crit Rate+ - Team Crit Rate+ (2%/4%/6%/8%/10%)
As Shadow Luni (Unit)
Active Skill: TBD
Passive Skill: TBD
As Shadow Luni (Boss)
Critical Damage Boost: 2x
Special Skills: Buffs all his stats, debuffs the team's defense power
Attack Pattern: AOE, AOE, Single, AOE
Trivia
According to Gacha Life he has pond full of ducks in his back yard
Depending on the version of Gacha Life you're playing, he will say either he owns 4,230 visors (Android) or 230 visors (iOS & PC).
He is considered to be the second personification of the artist/game author behind Lunime games, the first being Creator Luni.
His sister is Charlotte Mei, even though she's a robot.
As Magical Luni, he loves all cute things and anything sweet.
Among the shadow event bosses, Shadow Luni has the highest defense, and the lowest critical damage.
He appeared as a premium character in Jet Ace.
Additional Images
Community content is available under
CC-BY-SA
unless otherwise noted.