Gacha Club (previously known as Gacha Life 2, abbreviated as GC, and GL2) is a game by Lunime released in June of 2020 for Android, followed by Windows on Itch.io, and iOS in August of 2020. It represents a culmination of many of Lunime's previous games.  It has a story with RPG elements and battles like Gacha World and Gacha Resort, a collection of minigames similar to both Gacha Resort and Gacha Life which can be played to earn gems and other currency. And finally, it contains a very robust character creation system, building on the character creators in Gacha Life. 
Despite clubs being a major promotional point early, they are only used to group presets by character theme and have little bearing on gameplay.. Since the game's release, Lunime has had preset contests, the winners of which have been added to these clubs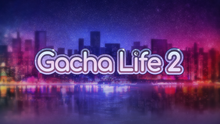 Home/Character Creator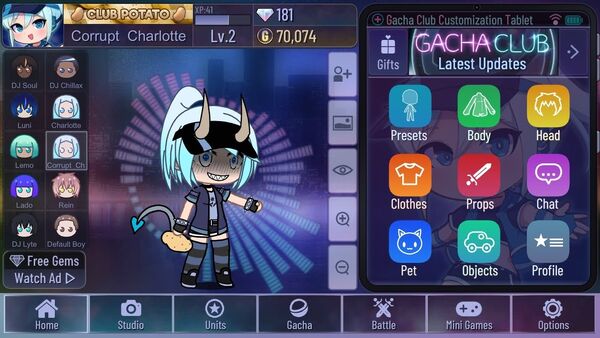 The opening screen displays your currently active character.  Your ten studio-ready characters are available to the left.  Options for editing and saving characters are to the right, and access to the other parts of the game from the menu on the bottom.  
The buttons to the immediate right of your active character are (from top to bottom)
Swap character with a stored one. You have 90 additional slots available for saving your OCs for lates, as only the 10 at the right are able to be active or used in Studio mode. All slots start out populated with the default male character and can be replaced. Using the buttons at the bottom, you can also copy parts of a saved character such as hair or clothes only.  
Change your active character's background.  This is saved as part of the character's data.
Turn off the interface and just have the character and background up.  Good for clean screen shots
Zoom into your active character window.
Zoom out of your active character window.
The remaining buttons control character creation and are much like those of Gacha Life, except more expansive with additional accessories, expanded color palette, asymmetrical options, and the ability to adjust the placement, rotation, and size of design elements.  Like before, preset characters can be loaded into an active slot.  These are grouped in the Preset menu by the club they represent.
Your character's profile now has places for favorite battle unit, favorite club, birthdate, age, profile information, decorative title, and character details not limited to dropdown menus.  Exporting and Importing characters online is locked until the player reaches level 5  by gaining experience in battles and minigames. This method allows the player to use a simple code to share characters via the server. Characters can still be shared in "offline" mode via a long code string that can be exported from the character's profile.
Studio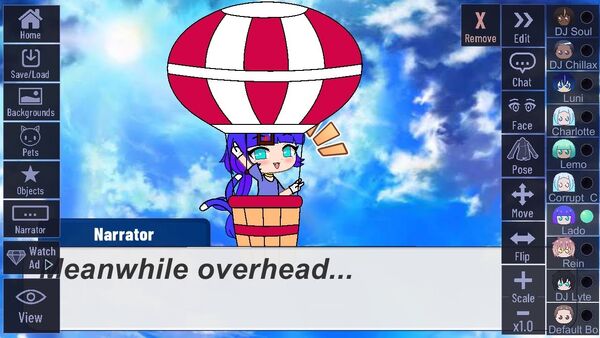 Much like in previous games, you can create scenes with up to ten of your characters.  The character must be in one of the ten character slots on the main screen, though you can swap characters from your archive as needed. Only one scene may be active or edited at a time, though you can save scenes and load them later. 
Tapping on a character places them in the scene and activates the character menu. This will allow you to resize, move, and modify the character for your scene. Character dialogue options include color, speech bubble shape, font, and general placement.  
New is the Narration option that creates a text box not attached to a character.  It behaves much like the character's chat options except that the narration bubble stretches across the entire width of the screen.
Additional details may be added to the scene via the Objects and Pets options, which work much like the character options in that you can resize, move, etc.  NOTE: You can only add one of any object to a scene. You can only add one of any pet to a scene unless that pet is already attached to a character during character creation.  
Units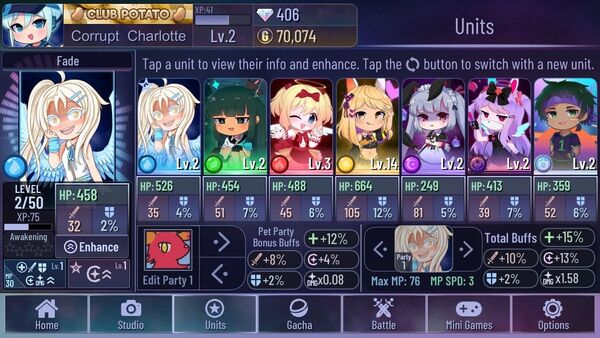 Here the player can manage your battle unit teams.  Everyone starts out with a team of seven made up of one character of each element: Water, Wind, Fire, Light, Dark, Corrupted, and DJ.  The player can have up to 10 different teams that can be  swapped between when not in battle allowing for element-specific teams. 
The player also has a Pet team they can assign to their active team.  The pet system has undergone the most drastic changes from previous versions. Gone are all the previous pet artwork from previous games.  In its place are new, more simplified artwork that can be used  and color-customized as part of your custom character art, or can be used to give your battle units bonuses in battle mode. Pet Teams are made up of Gacha'ed pets and give passive stat bonuses, allowing for further customization.  Pets gain levels only through repeated Gachas - each duplicate increases the pet's stat boost slightly.
Both Battle Units and Pets can be gained through Gacha.
Gacha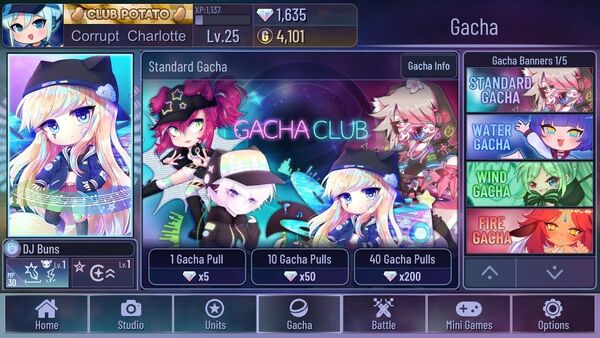 Gacha is the way to gain pets and Battle units. Gacha primarily uses gems and primarily drops pets (90%), the exceptions being Ticket Gacha which is a guaranteed Battle Unit drop, and Gold Gacha, which drops character advancement items. The player can also choose several Gacha modes that increase certain character drops such as characters by a certain artist, or characters of a certain element type.
Pets come in both Common and Legendary varieties.  Legendary pets start with twice the bonus as Common pets in their respective traits. These traits include HP, ATK, DEF, Crit Rate and Crit Damage bonuses.
Duplicate Battle Units and Pets increase the duplicated character's or pet's stats by a small amount (about 5%). 
Battle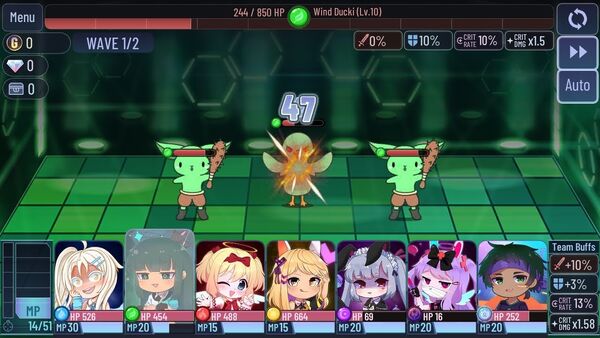 Battle Mode is very similar to Anime Gacha's battle mode, where each member of your team attacks in sequence, building up power for a special attack.  However, each team member has a different special attack and a different passive buff similar to the unfinished battlesystem in Gacha League.
Characters advance by earning XP and leveling up their Active and Passive powers with items.  Once a character reaches a certain character  level, they must be  Awakened, which gains them a star and a higher level cap.  
There are three battle modes: Story Mode, Tower, and Training. Story Mode is told in cutscenes followed by a series of battles, much like Gacha World and Gacha Resort.  Tower involves completing a number of elemental based battles to advance.  Training is a simple battle mode with increased leveling item drops. 
Mini Games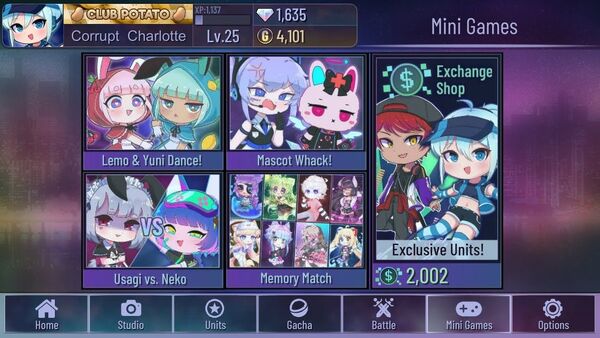 Gacha Club offers Four minigames that award gems and special coins used to get rare Battle Units that are only available through the Minigame section.  The games currently consist of:
Lemo & Yuni Dance - A Simon-Says like game.  You are shown shown a series of combinations of two symbols and must repeat them to advance. Too many mistakes ends the game.
Mascot Whack - A simple Whack-A-Mole game.  Whack the game mascots Bella and Usalina while avoiding the ducks.  Hitting too many ducks or missing too many mascots ends the game.
Usagi vs. Lemo - You play as Usagi.  Move left and right and shoot Lemo's bots as more and more players watch you stream.  The longer you last without getting shot the higher the rewards.  Get shot and the game ends.
Memory Match - A Memory game.  You are shown all the cards before they are flipped over and you try to match them all as fast as possible.  More cards appear on the field as you advance.  Take too long and the game ends.
An additional DJ game was planned but was removed at the last minute due to lagging issues.  Possibly more games will be added later.
Secrets
Tapping on bunny Usalina when she appears above the logo on the title screen will give you resources. Sadly this only works once.
A secret boss is hidden in the game The boss, referred to as 000, is extremely difficult and requires level 100 characters to beat. The boss can be accessed after gaining the 000 battle unit from gacha, then viewing the character artwork with the Eye icon on the Enhancement page and waiting.
Club Insignias
Club Posters
References and External Links