This article is incomplete - it is lacking page content summaries and information on the community. You can help by
editing it!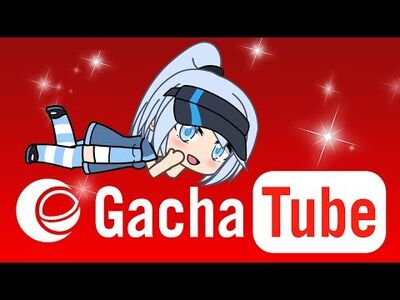 GachaTubers (or Gacha YouTubers) are fans who use Gacha Life, Gacha Studio, or Gachaverse screenshots to make videos on YouTube. While promoted by Lunime, their content is considered non-canon. GachaTube content such as music videos, skits, ongoing series, mini movie, movies and other content built using the character creators in the aforementioned Gacha games.
How to make a Gacha Video
Choose an editor
You would need a video editor, such as PowerDirector, Kinemaster, Videoshop, or iMovie. (You can also record the screenshots but that isn't recommended).
Take Screenshots
You need to screenshot what you set up in Gacha Life, Gacha Studio or Gacha League/Gachaverse. Go to your studio page and select the "Hide" button to hide the menus. Now take your screenshot - how you do this will depend on your device but in most cases, it's very simple.
GachaTubers of Note
List of Gacha-centered YouTubers
Here is a list of some YouTubers who upload Gacha Videos.
500K Subscribers
250-499K Subscribers
DailyPotato - Home of skits, meme videos and the series "Altered Reality" created by Freya.
Gacha Mike, better known as Bijuu Mike - Reaction videos to Gacha content and occasional dare videos.
Cream Puff - GLMVs, Mini movies, Memes
Gacha Wow Studios-Anime - Mackenzie makes skits, miniseries, minimovies, and more Gacha content videos.
EmilyKitty - Skits, music videos, and tutorials.
Murfie - A Bad Boy With A Heart Gacha Life and Gacha Studio series.
MeeKhaylaYT Playz - Various mini movies.
Mimi XD - GLMV's, Skits, Memes.
Luna Playz - Creator of Loved By Two GLMM and various series and mini movies.
LilCrystalGaming - Creator of Online Friends mini movie, My Popular Boyfriend, Hot Teacher and Me and the Badass series.
Kaelyn xox - Mini movies
Hatsumi Roe - Memes and GLMV
100-249K Subscribers
List of non-GachaTubers
Here is a list of some YouTubers who have used Gacha in some of their videos.
1M+ Subscribers
500K+ Subscribers
Community content is available under
CC-BY-SA
unless otherwise noted.